"Valerie Mann is by far the most successful grant writer I have seen in my 42 years in law enforcement. When she started with my department, we had basically nothing in terms of equipment. She brought us up to the level of a technologically sophisticated agency."
Chief William Lamphere, former Chief of Police in Havre de Grace, MD and Hurlock, MD
"Valerie, the response to your workshop was overwhelmingly positive. Our membership is hungry for grants information and your class seems to have hit the mark".
Maryland Municipal League staff, commenting on a 6/26/13 workshop co-presented by Valerie Mann at the League's annual convention in Ocean City, MD
"You are a very talented individual and your expertise and knowledge is superior to so many others I have come across in my career, across a vast array of grant sources and procedures."
Staff at US Department of Commerce
Are you interested in finding money for your group or organization? My name is Valerie Mann and with my decades of experience I am here to help you learn the in and outs of grant writing so that you can find the financial support you need to complete important projects. There is an enormous amount of money available for nearly any kind of non-profit, municipality, police department, fire department, and more. With my help you will know just what to do to confidently apply for any number of grants. I have been a grant writer for 40 years. From July of 1977 through December of 1985, I was employed as a Grants Writer at the Salisbury, Maryland Mayor's office. Since that time, I have operated my own successful grant consulting business.
I have been a webinar presenter for both the Grant Professionals Association and GrantStation, both national and international groups whose purpose is to educate the grant professional community. My article, How to Deal with Deadlines, appeared in the yearly Journal of the Grant professionals Association, in the fall of 2013. Another article, What to Do if the Grant Application is Not Approved, appeared in the January 2015 issue of Nonprofit World.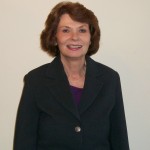 I have written approximately 800 grant applications over the course of my career. I estimate that I have obtained approximately $160,000,000 in grant funds.
I have worked to implement the following types of grant funded projects: water and sewer, street rehabilitation and construction, housing rehabilitation, parks and recreation, economic development, heritage tourism, historic preservation, law enforcement, homeland security, and fire protection.
My grant consulting client base is primarily cities, counties, law enforcement agencies, fire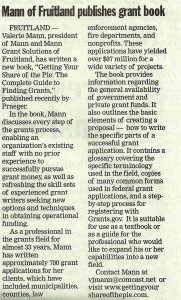 departments, and nonprofit agencies.
I served as President of the Fruitland City Council from October of 1992 to October of 1998. From October of 1990 to October of 1992, I was a member of that body. As the Chief Elected Official for this City of 4000, my duties included the following: policy and budgetary decision making, supervision of staff and formulation of new initiatives. A significant achievement was direction given for the City's entry into the economic development field. This included the organization of the City's first Economic Development Commission. My other duties included serving as the President of the Lower Eastern Shore Mayors' Association, as the Treasurer of the Maryland Mayors' Association and as an alternate on the Legislative Committee of The Maryland Municipal League.
I am a graduate of the School of International Service at American University in Washington, DC. Prior to entering the field of grant writing, I worked for the Public Information Office of the Federal Reserve Board in Washington. I currently live in Fruitland, Maryland with my son and several rescued pets.